DKBmed COVID-19 Medical Education Series Expanded to Reach Managed Care Professionals, Hospitalists, Pharmacists, and More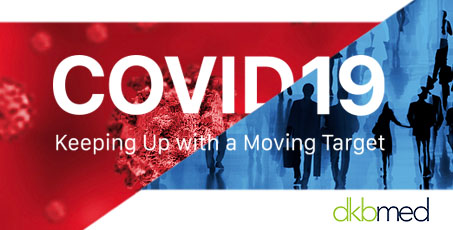 NEW YORK (4/13/2021) — COVID-19 has resulted in 122 million confirmed cases worldwide and more than 540,000 deaths in the US alone. This novel coronavirus brings with it a steep learning curve, as health care providers tirelessly aim to understand how to effectively treat the disease as it comes close to overwhelming health systems. Recently, virus variants have challenged providers to ensure that treatments are effective against these emerging viral strains. The realities of the pandemic have also brought to light substantial inequities in health care: underserved populations are disproportionately represented in the number of COVID-19 cases in the United States, and they are suffering dramatically worse outcomes from COVID-19 infection.
DKBmed announces today that its highly successful educational webinar series, COVID-19: Keeping Up with a Moving Target, has been expanded to reach a larger audience of health care providers to meet those needs. Since March 2020, the company has created over 100 educational activities and reached 120,000+ learners. DKBmed's expert COVID-19 educators from around the country will now be able to educate new providers as the company expands into managed care, pharmacy, and hospital-based medicine while continuing and expanding its current programs for multispecialty audiences.
Multispecialty webcasts and videos
The DKBmed weekly series of webcasts will continue to cover a wide range of topics for health care providers across all medical specialties who treat patients at-risk or who have COVID-19 (eg, primary care, pulmonology, infectious disease, intensivists). These live webcasts will arm providers with the latest guidance and breaking data on COVID-19 treatments for both hospitalized and ambulatory patients — particularly those at high risk for hospitalization because of comorbid conditions. Topics planned include post-COVID syndrome, COVID-19 and multiple sclerosis, extracorporeal membrane oxygenation, the impact of variants, monoclonal antibodies, and COVID-19's disproportionate impact on underserved populations.
In addition, two primer videos provide a knowledge foundation in virology and epidemiology of COVID-19. These programs are developed in partnership with the Institute for Johns Hopkins Nursing and the Postgraduate Institute for Medicine. Visit covid19.dkbmed.com/multispecialty for more information.
Managed care
Webcasts will be hosted on the Managed Care Learning Network (MCLN) to give managed care pharmacists, medical directors, and other decision-makers the latest efficacy and safety information on current and in-development COVID-19 treatments. Visit covid19.dkbmed.com/managed-care for more information.
Pharmacists
Six webcasts will be delivered through the Power-Pak online learning portal targeted to pharmacists and pharmacy decision-makers. These webcasts will discuss immunological and virological concepts as they relate to COVID-19 pathophysiology, cover information on new and in-development treatments, and describe current management strategies for mild to moderate COVID-19. Visit covid19.dkbmed.com/pharmacists for more information.
Success of COVID-19: Keeping Up with a Moving Target
DKBmed's COVID-19: Keeping Up with a Moving Target program has reached more than 125,000 clinicians worldwide through more than 100 programs.
The proven impact of this program and its successful reach demonstrate a sustained need for regular updates on COVID-19 from trusted medical and scientific resources. The ongoing series of webinars and podcasts are freely accessible at any time on DKBmed's Hub website covid19.dkbmed.com.
About the Postgraduate Institute for Medicine
The Postgraduate Institute for Medicine (PIM) has been providing trusted independent continuing education for health care professionals for over 30 years and is a recognized leader for jointly sponsored and cosponsored continuing education activities. The PIM continuing medical education (CME) program delivers effective CME activities designed to contribute to the professional development of physicians and other health care professionals, support their lifelong learning process and positively impact the delivery of medical care. PIM is Accredited with Commendation by the Accreditation Council for Continuing Medical Education (ACCME), the Accreditation Council for Pharmacy Education (ACPE) the American Psychological Association (APA) and is Accredited with Distinction as a provider of continuing nursing education by the American Nurses Credentialing Center's Commission (ANCC) on Accreditation.
About the Institute for Johns Hopkins Nursing
Formed in 1995, the Institute for Johns Hopkins Nursing is an innovative partnership between the Johns Hopkins University School of Nursing and the Johns Hopkins Hospital Department of Nursing. The overall mission of the Institute is to share innovations in practice, science, and scholarship from Johns Hopkins Nursing with other health care professionals locally, nationally, and worldwide. The Institute achieves its goals through continuing education programs, consultation, and developing and marketing patient care products conceived by Johns Hopkins nurses.
The Institute for Johns Hopkins Nursing is accredited as a provider of continuing nursing education by the American Nurses Credentialing Center's Commission on Accreditation. The Institute for Johns Hopkins Nursing is approved as a provider of nurse practitioner continuing education by the American Academy of Nurse Practitioners: AANP Provider Number 061216.
About DKBmed
DKBmed is an integrated continuing medical education company operated by a team of medical education experts. DKBmed provides health care professionals effective medical education that closes identified knowledge and practice gaps to improve patient health.
Working with accredited providers, DKBmed develops innovative educational programs and quality improvement initiatives and specializes in bringing new learning methodologies to the CME landscape. DKBmed has become a leader in QI in the independent medical education space with QI projects in pain management, HIV, depression, and diabetic eye disease. At the immediate outset of the COVID-19 pandemic, DKBmed and its partners coproduced a live webcast that was watched by more than 11,000 clinicians globally. Webcast participants submitted more than 500 questions to our faculty during that first webcast.
DKBmed was also an early adopter of case scenarios with recorded and live actors, TED/DKBmed Talks, 3D animation, webcasts, podcasts, e-mail, and mobile phone applications for clinicians and patients. These forward-thinking approaches enable health care professionals to learn using state-of-the-art techniques and access educational programs in a manner that is most convenient and appropriate for them.
DKBmed's programs are accessible through the company's web site (dkbmed.com). They reach more than 150,000 health care professionals in primary care and in a variety of specialties, including HIV, cystic fibrosis, diabetes, infectious disease, dermatology, ophthalmology, rheumatoid arthritis, pulmonary disease, nephrology, multiple sclerosis, gout, ulcerative colitis, irritable bowel syndrome, chronic constipation, depression, viral hepatitis, eating disorders, and pain management.
---