ePulmonology Review Series Renewed for a Second Volume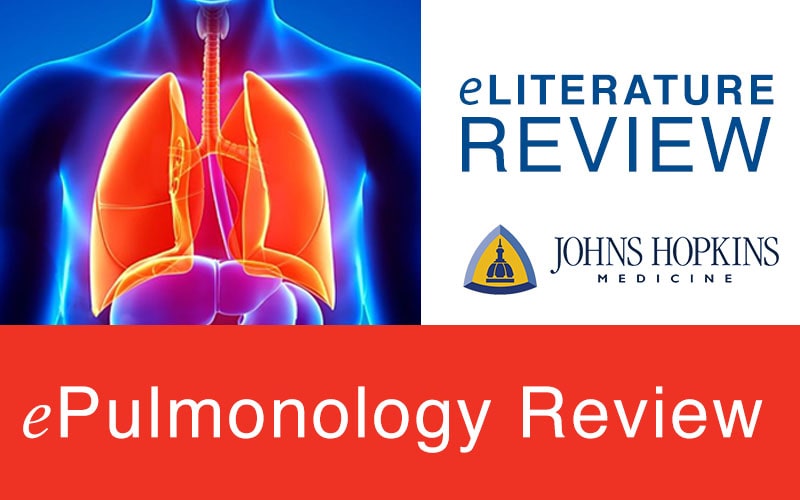 NEW YORK (3/8/2022) – DKBmed, LLC, in collaboration with the Johns Hopkins School of Medicine and the Institute for Johns Hopkins Nursing, is releasing a second volume of its popular ePulmonology Review series. This new installment, consisting of three journal briefs and three case-based podcasts, will assist pulmonologists and other clinicians in their efforts to optimize management of asthma and chronic obstructive pulmonary disease (COPD).
The program can be found at epulmonologyreview.org
The sudden emergence of SARS-CoV-2 has complicated the care of patients with asthma and COPD. Although patients with these conditions are not more susceptible to infection with SARS-CoV-2, evidence from a meta-analysis of respiratory studies indicates that they have a higher risk of severe disease and mortality. Further complicating matters, medications used to manage asthma and other respiratory conditions can compound the likelihood of opportunistic infections. Even with treatment, patients with moderate to severe asthma and COPD can struggle to control exacerbations. The therapeutic landscape has expanded in recent years to address existing treatment gaps, but some of the new biologic medications require careful patient assessment before selecting the best option for each patient. Clinicians treating patients with respiratory conditions like asthma and COPD must weigh efficacy with safety during an ongoing pandemic.
"As a respiratory disease, COVID-19 intuitively and severely complicates the work we do as pulmonologists," notes Lesley Simon, Medical Director at DKBmed. "GOLD Guidelines recognize patients with COPD as among the most severely affected by COVID-19. With that in mind, we need to carefully weigh the pros and cons of treatments for our patients, which are growing more plentiful each passing year. In the midst of a pandemic, up-to-date educational initiatives would be invaluable and can help ensure that we are making the best treatment decisions possible for our patients."
​
Volume 2 of the ePulmonology Review will examine critical topics relevant to the care of patients with asthma, COPD, and COVID-19, including:
Navigating updated clinical guidelines, differences between guidelines, and their implications on how clinicians select therapies
Incorporating new treatments into clinical practice for patients with asthma and/or COPD
Managing treatment-related adverse events in patients, as well as monitoring treatment efficacy
​
ePulmonology Review is one component of the highly successful and popular eLiterature Review series published through DKBmed's collaboration with the Johns Hopkins School of Medicine and the Institute for Johns Hopkins Nursing. Each installment consists of a newsletter and podcast. To view this and similar learning programs centered on other conditions, including cystic fibrosis, HIV, and COPD, visit elit.dkbmed.com.
​
Success of ePulmonology Review
​ The second volume of
e
Pulmonology Review comes after the success of the first volume, which drew 2,274 subscribers and 152 app downloads and learners saw an over 80% increase in confidence and over 95% increase in knowledge.
Other key metrics include:

​
Credit Designation Statements
Physicians
​ eNewsletter: The Johns Hopkins University School of Medicine designates this enduring material – Internet activity for a maximum 2.0 AMA PRA Category 1 CreditsTM (1 AMA PRA Category 1 CreditTM per monthly review). Physicians should only claim credit commensurate to the extent of their participation in the activity.
Podcast: The Johns Hopkins University School of Medicine designates this enduring material – Internet activity for a maximum of 1.5 AMA PRA Category 1 CreditsTM.
​
Nurses
​ eNewsletter: This 1 contact hour Educational Activity is provided by the Institute for Johns Hopkins Nursing. Each Newsletter carries a maximum of 1 contact hour, or a total of 2.0 contact hours for the 2 newsletters in this program. ​ Podcast: These paired, 0.5 contact hour Educational Activities are provided by the Institute for Johns Hopkins Nursing. Each podcast carries a maximum of 0.5 contact hour, or a total of 1.5 contact hours for the 3 podcasts in the program.
Disclosure of Support
​ Volume 2 of
e
Pulmonology Review is supported by educational grants provided by AstraZeneca and Viatris, Inc. ​
About DKBmed
​ DKBmed is an integrated continuing medical education company operated by an experienced team of medical education experts. DKBmed provides health care professionals with effective medical education that closes identified knowledge and practice gaps to improve patient health.
Working with accredited providers and other partners, DKBmed develops innovative educational programs and quality improvement (QI) initiatives, bringing new learning methodologies to the CME landscape. DKBmed has become a leader in QI in the independent medical education space with QI projects in Pain Management, HIV, Depression, Influenza, and Diabetic Eye Disease. DKBmed was also an early adopter of case scenarios with real patients and live actors, TED/DKBmed Talks, 3D animation, webcasts, podcasts, and smart phone applications for clinicians and patients. These forward-thinking approaches enable health care professionals to learn and access educational programs in a manner that is most convenient and appropriate for them.
DKBmed's programs are accessible through the company's website (www.dkbmed.com). They reach more than 150,000 health care professionals in primary care and in a variety of specialties and disease states including: HIV, COVID-19, cystic fibrosis, diabetes, influenza, dermatology, retinal disease, rheumatoid arthritis, COPD, asthma, multiple sclerosis, pain management, depression and viral hepatitis (HBV, HCV) and oncology.
---