DKBmed Expands Successful COVID-19 Educational Webinar Series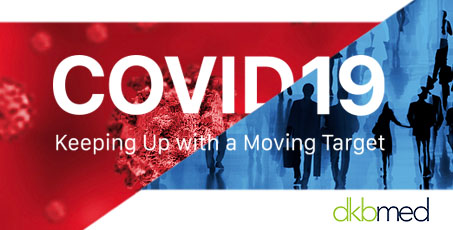 NEW YORK (12/20/2021) – In response to the evolving needs of health care providers and the recent surge of the Omicron variant DKBmed is expanding its highly successful, educational webinar series on the novel coronavirus entitled COVID-19: Keeping Up with a Moving Target. Since its launch in March 2020, this initiative has reached over 125,000 clinicians worldwide and features more than 100 programs. These webcasts explore a diverse array of topics relevant to health care providers across providers who care for patients at-risk for or who have contracted COVID-19.
DKBmed's COVID-19 Hub with all these programs can be found at covid19.dkbmed.com
Multispecialty webcasts and videos
The DKBmed weekly series of webcasts will continue to cover a wide range of topics for health care providers across all medical specialties who manage patients with COVID-19. These live webcasts will arm providers with the latest guidance and breaking data on COVID-19 treatments for both ambulatory and hospitalized patients.
Treatment Strategies for SARS-CoV-2 Variants
These webinars will focus on the effects of viral variants on viral transmissibility, morbidity, and treatment, and the importance of early intervention, including appropriate management with monoclonal antibodies (mAbs) and other available therapies active against the Omicron variant
Health Equity
These programs will feature extensive information on Inequities in social determinants of health. Several studies have examined the disparities in COVID-19 incidence, morbidity, and mortality. Inequities in social determinants of health likely contribute significantly toward increased risk of exposure to SARS-CoV-2. Clinicians treating people from ethnic and racial minority groups must be kept abreast of new information as it emerges so they can keep up with the moving target that is SARS-CoV-2.
​
Success of COVID-19: Keeping Up with a Moving Target
DKBmed's COVID-19: Keeping Up with a Moving Target program has reached more than 125,000 clinicians worldwide through more than 100 programs.
The proven impact of these progams and its broad reach demonstrate a sustained need for regular updates on COVID-19 from trusted medical and scientific resources. The ongoing series of webinars and podcasts are freely accessible at any time on DKBmed's Hub website covid19.dkbmed.com.
​
About the Postgraduate Institute for Medicine
​ The Postgraduate Institute for Medicine (PIM) has been providing trusted, independent continuing education for healthcare professionals for over 30 years and is a recognized leader for jointly sponsored and cosponsored continuing education activities. PIM is accredited with commendation by the Accreditation Council for Continuing Medical Education (ACCME), the Accreditation Council for Pharmacy Education (ACPE), the American Psychological Association (APA), and accredited with distinction as a provider of continuing nursing education by the American Nurses Credentialing Center's Commission (ANCC) on accreditation. ​
About the Institute for Johns Hopkins Nursing
​ Formed in 1995, the Institute for Johns Hopkins Nursing is an innovative partnership between the Johns Hopkins University School of Nursing and the Johns Hopkins Hospital Department of Nursing. The overall mission of the Institute is to share innovations in practice, science, and scholarship from Johns Hopkins Nursing with other healthcare professionals locally, nationally, and worldwide. The Institute achieves its goals through continuing education programs, consultation, and patient care products conceived by Johns Hopkins nurses. ​
About DKBmed
​ DKBmed is an integrated continuing medical education company operated by an experienced team of medical education experts. DKBmed provides health care professionals with effective medical education that closes identified knowledge and practice gaps to improve patient health.
Working with accredited providers and other partners, DKBmed develops innovative educational programs and quality improvement (QI) initiatives, bringing new learning methodologies to the CME landscape. DKBmed has become a leader in QI in the independent medical education space with QI projects in Pain Management, HIV, Depression, Influenza, and Diabetic Eye Disease. DKBmed was also an early adopter of case scenarios with real patients and live actors, TED/DKBmed Talks, 3D animation, webcasts, podcasts, and smart phone applications for clinicians and patients. These forward-thinking approaches enable health care professionals to learn and access educational programs in a manner that is most convenient and appropriate for them.
DKBmed's programs are accessible through the company's website (www.dkbmed.com). They reach more than 150,000 health care professionals in primary care and in a variety of specialties and disease states including: HIV, COVID-19, cystic fibrosis, diabetes, influenza, dermatology, retinal disease, rheumatoid arthritis, COPD, asthma, multiple sclerosis, pain management, depression and viral hepatitis (HBV, HCV) and oncology.
---